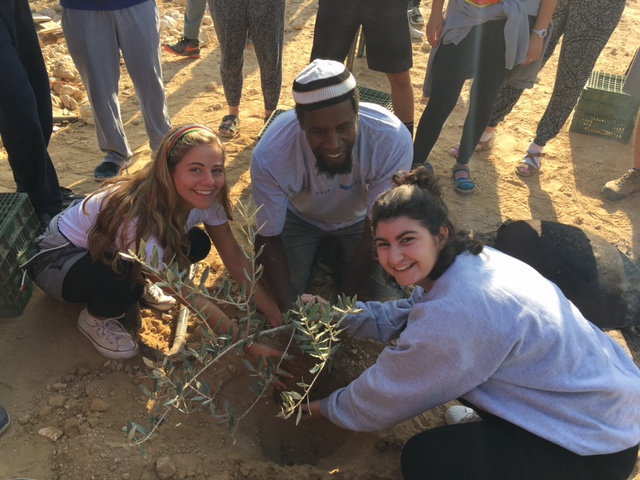 The strongest guarantor for the future for the Jewish people is to provide young people with a Jewish Education of boundless hope and intellectual integrity. An education that demonstrates every day the positive, historic role of the Jewish people throughout history and across the globe. An education of great ideas, places and people, filled with imagination, crossing boundaries and building bridges between "the other" and ourselves. This education must be fully integrated with the experiential and it must provide strong spiritual inspiration fueled by vision.
Donate by Check
Make checks payable to KIVUNIM and send to:
KIVUNIM
300 Central Park West #12J2
New York, NY 10024
AmazonSmile
If you use Amazon.com like so many of us do, please sign up for AmazonSmile! Amazon will donate 0.5% of the price of your purchase to a charity of your choosing- and you can choose KIVUNIM!
Matching Gifts
Many employers have matching gift programs and will match charitable contributions made by their employees. Find out if your employer will help to double the impact of your gift to KIVUNIM.
Donate Stock
To make a tax deductible gift of stock, please contact Elie Lauter at elauter@kivunim.org
WHAT IS A TYPICAL SCHOLARSHIP?
We devote up to 20% of our potential gross tuition to financial aid that allows us to distribute an annual average of $500,000 in a combination of needs-based scholarships and small interest-free loans.
Approximately 50% of our students receive financial aid ranging from $5,000 to $40,000 with the average award being $15,000. All awards are based upon the family's financial situation. Some need and receive much more, others less.
The process of applying for financial aid is simple and quick. Families submit a copy of the "Fafsa" form they have prepared for college scholarships and an indication of what amount they feel their family is capable of paying (always higher than what the Fafsa process expects of them). The scholarship funds are distributed on a first come first served basis, so applying early is always to your advantage.
In order to provide this assistance, we must make up the gap in tuition through gifts from committed donors. We are too young to have developed an endowment. That's why we need your help!
Revolving Scholarship Fund
We have developed a unique educational approach to the distribution of scholarships, requiring each scholarship student recipient (not parent) to sign the following "Student Ethical Commitment" upon receipt: "I agree that I will make every effort to repay KIVUNIM for the amount of my scholarship when I get older, thereby enabling another student to someday have the opportunity that is being provided to me today. I understand that this is not a formal promissory note, but rather an ethical pledge to do so as I grow older and become a donor to various causes and projects in the years ahead.
"I agree that KIVUNIM may remind me of this pledge in the future. If, at the time I am able to fulfill this pledge, KIVUNIM is no longer in existence I will seek out another program of comparable Jewish educational philosophy and provide the funds to them. (Repayment may be made in a lump sum or in smaller amounts over a period of years and these payments will be accepted as fully tax deductible contributions.)"
PLEASE TAKE A READ OF OUR COMPREHENSIVE 2006-2015 ALUMNI STUDY BELOW: